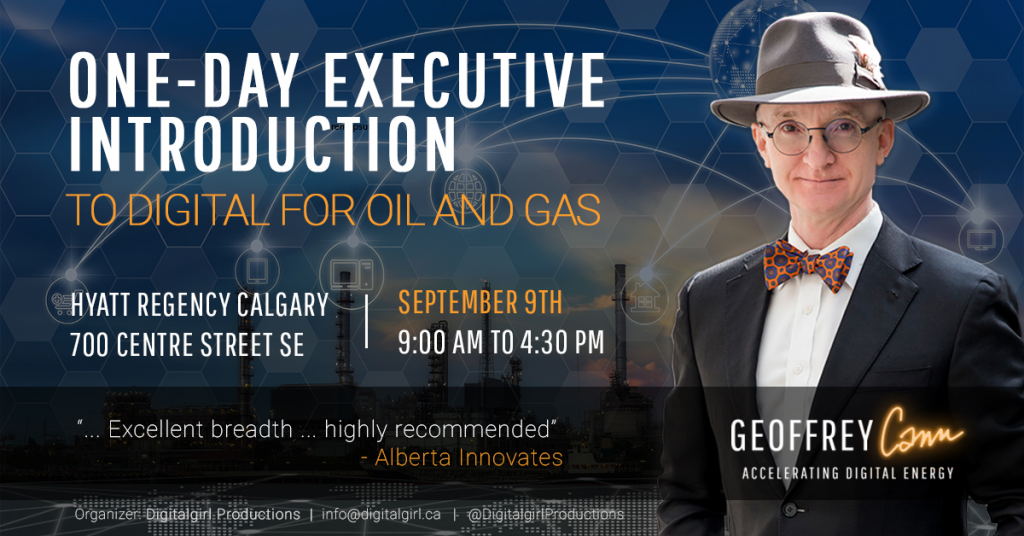 28 Aug

Future Proof Your Career With The Digital Basics

Are you wondering if you should invest any of your valuable time and money for some training on the basics of digital?
Getting Smart on Digital
The first challenge people working in oil and gas face in addressing digital changes in the industry, their companies and their jobs is to gain a basic understanding of digital. You need the basics just to sort fact from fiction, to anticipate what's hot and what's not, and to position yourself, your project or your company for success.
Digital is a frustrating and confusing jumble of terminology, products, and solutions that are forever changing. Your only options are to spend a lot of your free time with digital vendors, learning from them while fending off unwanted sales pitches, and to attend a handful of expensive conferences.
It's slow, biased, costly, and inefficient.
Until now.
Introducing the world's first one-day masterclass seminar aimed at equipping you, the oil and gas industry professional, with the basics of digital specific for the oil and gas industry. It's based on the best selling 'Bits, Bytes, and Barrels: The Digital Transformation of Oil and Gas', published 2019.
Check out this podcast where I discuss the course with Michele Taylor and Lisa Bzdurreck.
Why is digital important?
Digital is the hottest topic in oil and gas world wide. CERAWeek 2019 placed a high emphasis on digital. The Global Petroleum Show included a digital zone and digital track. Most big oil and gas companies are already working on digital initiatives, and aim to leave the rest of the industry behind.
Real money is at stake. Digital innovations are forecast to unlock $22 trillion in new reserves, improve asset performance by 20%, and reduce costs in the industry by 15% or more. Capital markets reward companies in the digital industry with valuations that now top $1T, and routinely ask energy companies what they're doing to prepare for digital.
Many oil and gas companies and the services industry have been unable to invest in business improvement initiatives because of the oil price collapse in 2014. Now, the industry is well behind in figuring out how to leverage digital innovations. The pressure is on to pay this debt.
And Boards are really concerned. Every other industry that has had to deal with digital change has created new winners and losers, and the losers are too frequently the incumbents. Boards know that they need to get ahead of this phenomenon, and they're worried that companies are not doing enough.
Finally, you, the oil and gas professional, have seen wave after wave of change coming at the industry. Digital is going to unleash the biggest and most impactful wave of change yet, based on what other industries have experienced.  You need to be prepared, and this course is the best way to skill up.
What does the course cover?
The course equips you with comprehensive answers to 4 critical questions:
1) What exactly is digital?
The course provides definitions, examples and data about the digital economy, its key drivers, and its directions.
2) Which digital innovations really matter for oil and gas, and why?
The course touches on the internet of things, artificial intelligence, robotics, cloud computing, blockchain, gamification, digital reality, and other key tools. It presents key use cases, examples and results.
3) When will these digital innovations start to show up in the industry, and what will be the impacts on companies, people, and jobs?
The course discusses the impacts of digital on exploration, production, the midstream, refining, retailing, capital projects, back office and services. Again, backed up with examples, insights, and lessons from early adopters.
4) How do companies implement digital innovations?
Here we review setting strategy, organizing delivery teams, adopting agile methods, addressing cyber issues, managing talent, and many other practical implementation concerns.
Who is the course aimed at?
The course is primarily aimed at leaders, managers, supervisors, and professionals in the oil and gas industry (upstream, midstream, downstream, back office, and services), who need to get smart on digital.
Perhaps you are being asked about how you're responding to digital from higher ups and you're not sure what that means. Or you've been assigned to a digital project and you need boot-strapping. Or you're reacting to a digital innovation coming to your team, and you want to be better prepared to deal with it. Or you're retooling your career and you want to be positioned in an area in high demand. Or you're simply curious.
A secondary audience for the course are people working in technology and digital companies who want to really understand the digital hot buttons and pressure points in the oil and gas industry.
What will you get from the course?
Aside from your very own autographed copy of 'Bits, Bytes, and Barrels'? You will be one of the few individuals in your company that stand out as a digital leader. You will be uniquely positioned for new and exciting assignments dealing with digital innovation. And most importantly, you will have taken the first steps to future proof your career in what is an increasingly digital world.
Who knows? You might get in on the ground floor of the next big digital innovation that transforms the industry. Better still, you might even come up with the next big digital idea.
Register here.