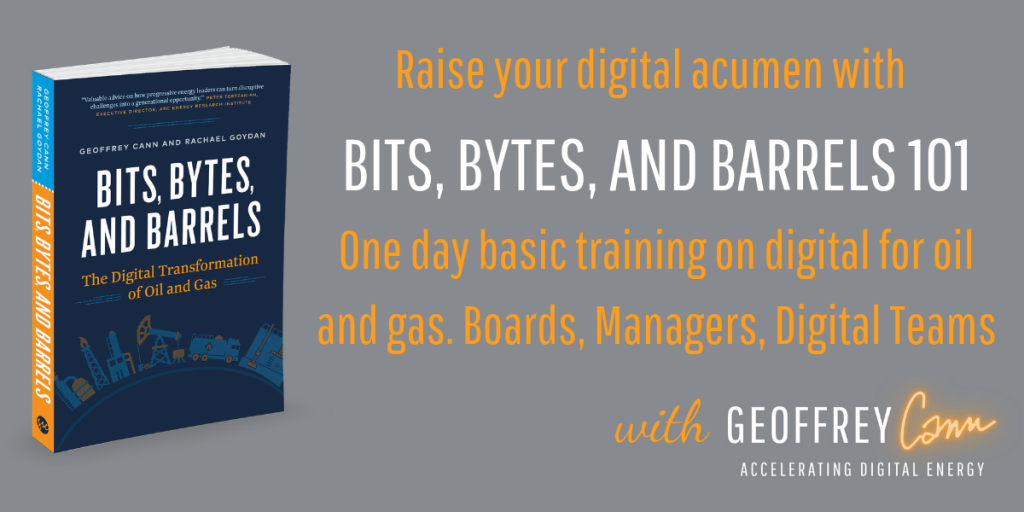 10 Jun

Digital Me — Training Up for a Digital Future

The first problem that oil and gas companies must address to advance with digital innovations is to close the gap in understanding the opportunity and the threat from digital. Here's how.
Digital Training or Training on Digital
Did you ever notice how airline pilots greet you only when you leave the plane? In part this is because they're really busy prepping for take off when passengers are loading, and much less occupied when passengers are disembarking. In reality, the sight of a twenty-something at the controls of a multi-million dollar aircraft raises passenger anxiety, so better to say good-bye than hello. We place a high value on experience, which equates to age, frankly.
As I tour about the oil and gas industry, I note that the leaders of oil and gas companies tend to have lots of experience. This is a good thing because the industry is inherently dangerous, and that danger is best managed by experience. Alarm bells sound on Wall Street when the founder of an oil company rocks a tee-shirt to the pitch meeting.
But experience can be a disadvantage in our new digital age. The older you are, the more likely your experience is fundamentally based on a solid understanding of the technologies of the past. The heartbeat technology for the sector, SCADA or Supervisory Control and Data Acquisition, originated in the utility sector in the 1960's. Desktop PCs entered the work world in 1981. Excel, still the analytics workhorse of choice in oil and gas, launched in 1985.
Fast forward two decades and we see YouTube kicking off in 2005, Amazon launches its cloud computing service in 2006, Apple unveils the iPhone in 2007, the App Store enters operation in 2008, and the term devops (or the application of agile concepts to manage computer infrastructure), originates in 2009. Digital awareness is deepest among the youth, and on technology teams. We are now ten years into the digital shift, and it has yet to make a serious impact on oil and gas.
Capital markets amply demonstrate how market sentiment now favours digital innovators — the digital outfits (Alphabet, Amazon, Apple, Facebook, Google, Tencent) are striving to be founding members of  the trillion dollar valuation club, leaving the oil and gas industry, who used to dominate such rankings, well behind. Market analysts ask oil company executives what they're doing about the exponential pace of change in technology, the impacts of climate change on their business models, and how they are responding.
As I see it, the biggest challenge oil and gas companies face in addressing digital changes in the industry is equipping their people with a common base of understanding of digital. Without uniform and shared definitions, terminology, and frameworks, organizations run the risk that their digital agenda will be defined by specific vendors which can have unintended consequences. Suppliers of technology, IT professionals, universities and consultants all use variants of their own proprietary approaches to digital that, well intentioned, can also lead to poor transparency, bias and integration complexity. Without a common base, teams drift into silos, management blocks innovation and Boards cannot execute their oversight role.
This is not to say that managers need to learn Python, or become solutions architects, or invest in bitcoin. However, management does need to grasp the basics. It's for this reason that I wrote my book, 'Bits, Bytes, and Barrels: The Digital Transformation of Oil and Gas'. It was time to get the conversation going at the management level, to raise that awareness.
A Good Start
Several people counsel me that the book is simply not enough to drive change in their organizations. Sure, the book ignites a level of curiousity about digital, and the current state of digital innovation within the sector, the competition and the company. But reading a book isn't as good as having a thoughtful conversation with peers. They seek something bigger, more impactful and with some staying power. They wish to see how these digital concepts play out in a real work setting. They crave some tools and techniques that can help them move forward.
Unsurprisingly, I found that there are no boot camp training courses on digital innovation that is specific to the oil and gas industry. No one really attempts such a thing because the industry is so broad and the technologies so varied. Most courses aim for technology mastery in some specific field, such as digital oil field, or blockchain in oil and gas. Courses are too long (usually multiple days), too costly ($2500/person), and too technical.
For this reason, I have created 'Bits, Bytes, and Barrels 101', a one day training course on the impacts of digital innovation on oil and gas. The course addresses a broad range of the oil and gas industry and the nature of digital innovations that are most important. It digs into topics such as the internet of things, artificial intelligence, and robotics. It sets out some of the more vexing problems of the upstream, midstream and downstream sectors, and how these digital technologies are already solving those problems, and how the digital solutions are likely to evolve.
But focusing on business problems and technology solutions is not enough. The course also includes key management topics like the nature of digital impacts and timing, risks that must be managed, the business case for change, the role of new methods like agile in driving success, organizing a digital team, the impacts on people, and how to set roadmaps. In my experience, much of the challenge of digital is in fact not about technology but about people.
To bring the concepts to life, I set out the discussion around a mostly fictitious oil field equipment  company that sells a traditional but valuable solution to the oil and gas industry. The company and its products are not very digital, and the company is under competitive threat to its market. One member of the executive thinks that digital innovations might actually be an opportunity, but how can she get the rest of the organization to see that possibility?
My course design is highly interactive, with plenty of team work, collaboration and quizzes. Participants are actively engaged using techniques like world cafe and rice storm, and the curriculum incorporates mini lectures, round robins, large group discussions, individual and team work, work sheet completion, and short presentations.
The course is for between 20 and 25 people so that the conversations are rich, the environment is intimate and the engagement is collaborative. And everyone gets their own copy of 'Bits, Bytes, and Barrels', signed by the author!
The Digital Training Curriculum
It's a bit of a jam-packed day but the course touches on all the key digital topics that I hear as most important for understanding.
Digital definitions, terminology and illustrations
Briefings on the leading digital technology advances including cloud computing, internet of things, artificial intelligence, autonomy, blockchain, gamification, augmented reality, agile methods
A framework for structuring digital innovations in context
Case examples of specific combinatorial digital innovations and impacts
Key orthodoxies of the industry that digital transforms
Reviews of the impacts of digital innovation on segments of the industry, including upstream, midstream, refining and processing, retailing, trading, corporate functions and services
Organising a team to tackle digital transformation
Risks to be managed, including security, privacy and technology risk
Talent management and skills required
Strategic planning methods for approaching digital innovations
Addressing the challenges of change management
The business case for digital innovation
Who Benefits From Digital Training
The course is aimed at closing the awareness gap in the impacts of digital on the industry, and is of interest to a broad audience—not just oil and gas companies, but key suppliers to the industry as well as ancillary stakeholders:
Oil and gas companies working anywhere in the upstream, midstream, downstream
Field services companies
Boards, managers, supervisors, and digital teams
Consultants to the industry
Suppliers to the industry (telecoms, software companies, digital solutions providers)
Regulators, policy makers, community leaders
Investors and funds
Conclusions
If you're really interested in moving the needle at your company, please contact me to discuss how this one-day awareness course could be of value.
*****
Check out my new book, 'Bits, Bytes, and Barrels: The Digital Transformation of Oil and Gas', available on Amazon and other on-line bookshops.
Mobile: ☎️ +1(587)830-6900
email: 📧 geoff@geoffreycann.com
website: 🖥 geoffreycann.com
LinkedIn: 🔵 www.linkedin.com/in/digitalstrategyoilgas