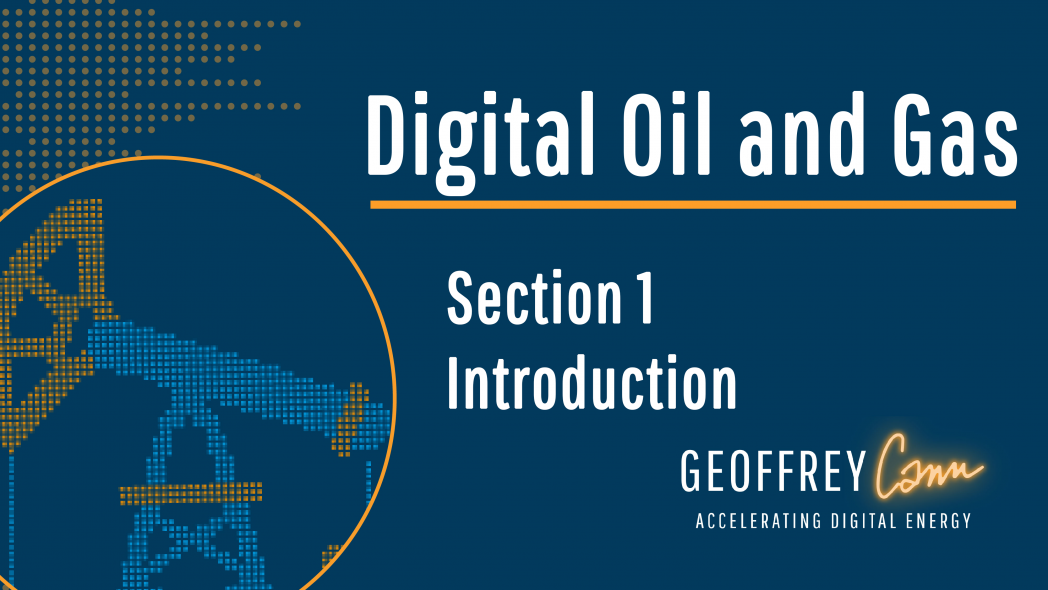 16 Dec

Building The On-Line Digital Oil and Gas Awareness Course

I've recently put the finishing touches on an on-line training course about digital oil and gas. Here's what it took to get the job done.
The Problem
The idea that digital innovations can create value in oil and gas is no longer a topic of dispute. It's taken a few years of hammering away on the idea, and the advocacy of some of the louder voices in the industry (CERAWeek and the IEA, for example), but I think we're now over the hump. My conversations in the industry focus less now on the why, and more on the where and how.
In that regard, my consistent advice, for the past 2 years, has not strayed from what I see as "how to get moving" with digital innovation—the need to educate the organization on digital change.
As I see it, companies working in oil and gas, including services companies, need to close the gap between the reality of digital today and their current understanding of digital. The gap is vast, and because of the pace of change, the gap is widening. Employees need to know where to focus, and how to move forward to make progress.
And not just for the digital innovation team. Digital is a team sport, driven as it is by Metcalfe's law of network value (a network of like-minded people). Team sports work if the team shares a common understanding of the rules (it's about data), the goal (a digital future), the game plan (the digital roadmap), the tactics (agile and design thinking), the skills needed (domain expertise, change management, data science, innovation), and the positions to be played (business modeller, bot wrangler, AI analyst, blockchain coder, cloud specialist).
There are lots of ways to get educated on digital—it's a big industry, and there are plenty of publications, websites, videos, TV shows, podcasts and courses on digital topics. I might even argue that there's too much digital education out there, and it's a problem picking out the gems from the dross.
But there are far fewer ways to get educated on how digital will impact oil and gas. I am unaware of any university courses yet on the topic. You could take in a year's worth of narrow conferences on the use of AI in oil and gas, or blockchain, or cloud, costing you thousands in registration fees and travel dollars, and still not get exposed to the digital basics, or how to piece it all together. I speak at many of these events—I should know.
So how do you cost-effectively equip your people with a common base of understanding of digital? Sending everyone to conferences could work but it's very costly ($1500 per day), and lacking in focus and consistency. Running my in-classroom experience can be very effective, but also costly ($750 per day per student) when the numbers get large, and is tough for teams working in remote sites, or in 24/7 roles. You can get digital awareness training for free by outsourcing it randomly to tech companies or consultants, but then your digital agenda will be defined by specific vendors which can have unintended consequences.
Is there an alternative?
Digital Awareness Training Using Digital
What's needed is digital awareness training, independently developed and produced, that is consumable by people on their terms —on any kind of device, wherever and whenever it's convenient, in bite-sized chunks, in a way that matches their role and interest (lighter in some areas, deeper in others), anywhere in the world, at a cost that is a fraction of the in-person option.
Sounds like a problem for digital to solve.
For the past 2 weeks, I've devoted myself to developing a one-day on-line lecture and quiz course called Digital Oil and Gas, a primer on the impacts of digital innovation on oil and gas. My book, 'Bits, Bytes, and Barrels', provided the basis for all the content, which dramatically accelerated the delivery of the course.
The course addresses a broad range of the oil and gas industry and the nature of digital innovations that are most important. It provides the terminology and key concepts. It digs into topics such as the internet of things, artificial intelligence, and robotics. It sets out some of the more vexing problems of the upstream, midstream and downstream sectors, and how these digital technologies are already solving those problems, and how the digital solutions are likely to evolve.
The course also includes key management topics like the nature of digital impacts and timing, risks that must be managed, the role of new methods like agile in driving success, organizing a digital team, the impacts on people, and how to set roadmaps.
Building An Online Course
It's a lot of work to build an on-line course of substance. Here's what I did:
Select a distribution platform
I considered running the course on my own website, but I'd then need to build the commercial back end, find a home for the videos, and invent a way to test for understanding. It was far faster to host the course on a third party platform, and after a bit of research, I selected Udemy for this role.
Land the visual design
Good quality material has thoughtful landing pages, opening credits and divider slides. I used my regular branding advisor to build beautiful imagery that reflected my colour scheme, images and website to unify the experience.
Film the professional bits
First impressions matter, so I retained a local marketing firm to help create a few minutes of high quality studio video to promote the course.
Design the content
In a 2 day planning workshop, my team and I laid out the course into 12 sections, including titles, length, order and key learning concepts. We ran numerous little trials with Udemy to sort out how everything works before we embarked on the big lift (scripting and image build). Using a single shared Google doc let my three person team collaborate without any confusion.
Write a script
My research suggested a script was necessary, because you need to consider what concepts you want to teach, and in what order. In the end, I wrote 74 separate scripts, each covering a specific topic.
Build the supporting images
Much the way theatre works, the author writes the script, but the director decides on costumes, set, lighting, and props. I played both roles and created the PowerPoint imagery for the lectures, with the help of my assistant.
Record the video
This was the tricky bit, because I live on a water airstrip, and noisy flights take off and land all day. I moved the entire build team to a rented home on a quiet golf course where we could work in peace and with purpose. To record, I used my Mac and a studio quality microphone, and I was able to film 3 sections per day, ultimately ending with 74 lectures.
Master the video
The raw video needs considerable editing, to remove noise, fix mistakes, and segment into lectures. We purchased a home cloud drive that gave us 2 terabytes of storage on a wifi network so that we didn't have to use Google or some other cloud service.
Load the course
As the sections were mastered, another assistant loaded the course into Udemy, putting the lectures in the right spots, creating the quizzes, and adding the resources.
Edit the captions
Video services can now create captions automatically from the dialogue on a video, but the captions still need editing. This is slow work, since virtually every caption needs to be lightly edited.
Check for quality
Unsurprisingly, there have been some quality issues, and these are getting repaired. Some things are just hard to do right the first time.
Conclusions
Now that the course has been build, it could be embedded in a company's own internal training catalogue so that it's available in the usual corporate controlled environment, and at a lower cost. The course could be translated to other languages since the captions are completed.
If you're really interested in moving the needle at your company, please reach out to me to discuss how this on-line course could be of value.
*****
Check out my new book, 'Bits, Bytes, and Barrels: The Digital Transformation of Oil and Gas', available on Amazon and other on-line bookshops.
Take Digital Oil and Gas, the one-day on-line awareness course.
Mobile: ☎️ +1(587)830-6900
email: 📧 geoff@geoffreycann.com
website: 🖥 geoffreycann.com
LinkedIn: 🔵 www.linkedin.com/in/digitalstrategyoilgas